Programs
Full Price Revenue
View the maximum achievable revenue for each price level in your venues.

Note that the Full Price Revenue function cannot be used for General Admission Programs.

From the main menu bar, select Maintenance > Programs

Click on the Full Price Revenue tab.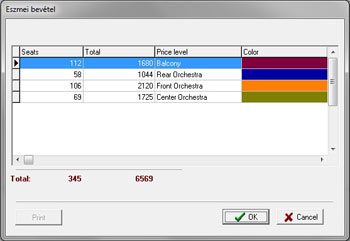 The Seats columns displays the number of seats in each Price level.

The Total column displays the number of available seats in each price category multiplied by the ticket price.
This is the maximum possible revenue from sales of tickets in each price category as it does not take into account discounts or other price modifications which may be applied.