Generate Tickets by Sections

Generate seats on an individual section or row basis and specify how many tickets are to be generated by section if required.

Note that normally you would use the Generate tickets function in Maintenance > Events after setting up an event which generates all tickets in the auditorium in one step.

From the main menu bar, select Maintenance > Generate Tickets by Section.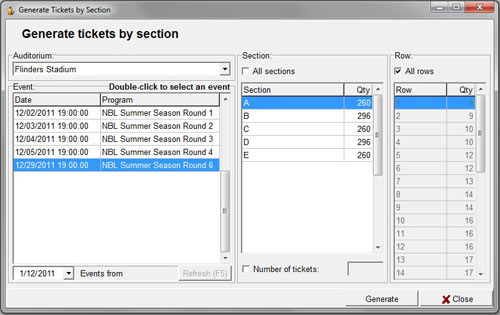 Select the auditorium from the Auditorium drop down box.

Select the event Date and Program by double clicking on the event.

To narrow the selection range, use the calendar in the drop down box alongside Events from to show only events after the date you set.
The sections in your auditorium will be displayed in the Section panel.

If you wish to generate seats for specific sections only, uncheck the All sections check box.

Highlight the section where you want to generate tickets.

If you wish to generate only a specific number of tickets, check the Number of tickets box and enter the required number of tickets to be generated.

If you only wish to generate tickets in specific rows, in the Row box uncheck the All rows box.

Click with your mouse to select a row.
Hold down the Ctrl key and click on the Rows with your mouse to select more than one Row.

Click on the Generate button
A pop up box will appear advising how many seats were generated.

Select OK.

Click on the Close button.