Auditorium Maintenance
Save Auditorium Image
Saves a .bmp image of your Seating chart.

From the main menu bar, select Maintenance > Auditoriums > Save Auditorium Image tab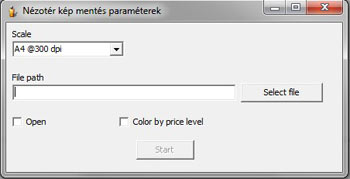 Select the scale required from the Scale drop down list.

Check the Open box if you want the .bmp file to open in your default viewer as soon as it is saved.

Select Color by price level if you want the image to display each price level in different colors.

Click on Select file and choose a destination on your computer for the image file.

Click on Start to create and download the image file.