Gates
Specify the gates/doors that patrons use to enter your auditorium /venue and associate these gates/doors with specific named Sections in your Auditorium/Venue for printing on tickets.

NOTE: Your Venue map must be divided into Sections if you wish to assign Gates to specific Sections of your venue.
This also means that if for example you have an auditorium with a single seating area but two entry doors, you will need to create two named sections if you wish to display the appropriate entry door on your tickets.
From the main menu bar, select Maintenance > Gates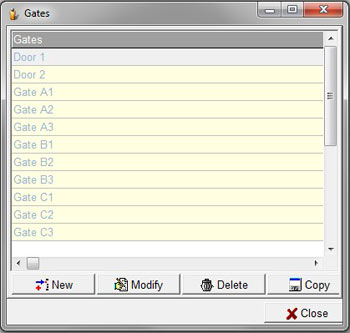 Click on the New button.In the Gates field, type in the name of a door or gate in your auditorium that patrons will use.

Click the Save/New button if you wish to enter additional Gate names or the Save button if this is the only Gate name you wish to specify in this session.

Click on Close when finished.

Next, go to Maintenance > Gates > Gates - Sections to associate these Gates with specific sections.