Customers
Rate
Assign a discount or concession rate to a specific customer and record the ID, card number, or membership number associated with the particular discount or concession.

Note carefully that any discount assigned here will be applied automatically to ALL tickets (but not season tickets) purchased in the name of that customer.

From the main menu bar, select Maintenance > Customers

From the Customer maintenance window, click on the Rate tab.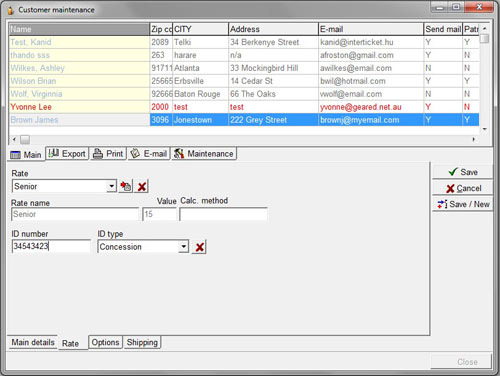 In the Rate drop-down box, enter the rate to be associated with this customer (e.g. student, concession. These rates are set up in Maintenance > Rates > Rate.

In the Rate name field, the name of the Rate and the Value associated with it will appear in light grey text.

In the ID number field, enter the concession card number, ID, student card or membership number given to you by the customer.

From the ID type drop-down box, select the type of concession card, ID etc applicable to the particular ID number.

Click on the Save button when finished or the Save/New button if you are entering additional customer records in this session.