Transaction History

Transaction history enables you to investigate the detail of any transaction, including sales, reservations, returns, exchanges, consigned tickets, bar code number etc.

From the main menu bar, select Transaction History

You can filter the results by:

User
select the user from the User drop down box
Transaction type
select the type of transaction from the Transaction drop down box
Transaction date
choose the date range using the drop down Date range calendars
Customer
enter the customer's First name or Last name and click the find button
Payment method
select the payment method from the Payment method drop down box
Event
select the event from the Event drop down box.
check the Open events checkbox if you wish to see open events only

You do NOT need to make a selection in every field.
You can for example delete any entry in the User or Transaction boxes and only select a date range and surname to search for a specific customer transaction in a specific period.

The corresponding transactions will be listed in the upper window.
Clicking on the red X at the side of any search box will reset the search

To see the tickets belonging to a specific transaction, click on a transaction to select and click on the Ticket info button.
The corresponding tickets will be displayed in the lower window, color coded according to the type of transaction.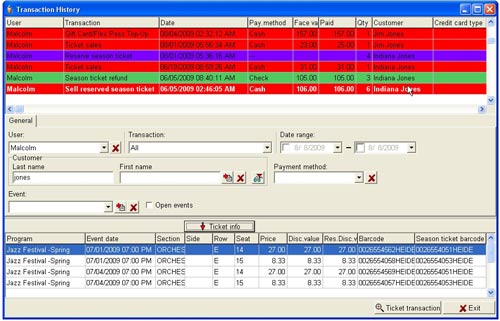 If you are refunding tickets and wish to enter the bar code displayed in the appropriate field in Ticket Transactions > Refund, right click on the blue bar in the ticket info window for the relevant ticket and select Barcode Copy.

Alternatively select ST Barcode Copy if you are refunding a Season Ticket.

To see the transaction history for any specific ticket, select the ticket in the lower window, then click on the Ticket transactions button at lower right.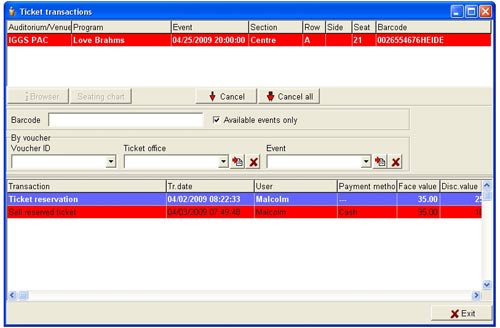 In this window you can also find the transaction history of any ticket by barcode.

Enter the barcode into the Barcode field and hit Enter.
The details of the transaction will be shown in the lower window.

To find the transaction history of any Voucher transaction, select the Voucher ID from the drop down box and hit Enter.

To filter by Reseller, select the Reseller from the drop down box.