Events
URL
Enter a URL to a page on your website with more information about a particular program.
This page will be hyperlinked to the program name on the main ticket search page so your customers can click on the link to find more information about your program.
Setting up a link to such a page on your website is optional.

Note that setting links on a single Event basis is not currently operational.
You can however set links on a Program basis at Maintenance > Programs > Infolink tab.

From the main menu bar, select Maintenance > Events

Select the URL tab at the bottom of the page.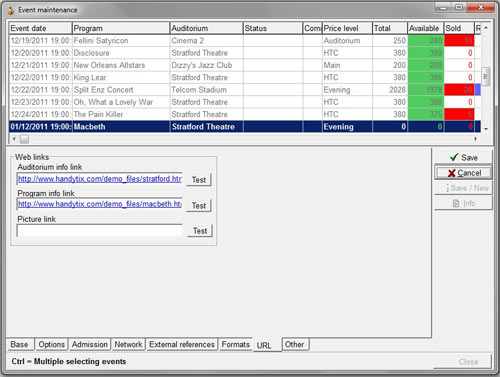 Audit. info link
This feature is not currently active.

Program info link
Enter the URL linking to a page on your website with information about the specific program.
Note that you MUST enter the full URL starting with http:// otherwise this feature will not work correctly.

Click on the TEST buttons to check that you have entered the URLs correctly.

Picture info link
This feature is not used in normal set up.