Log in / Log off

Accessing the ticketing system.

Click on the Tickets.exe link on your computer and the window below will open.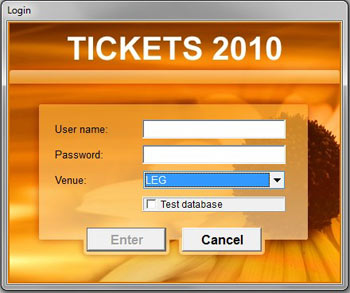 Enter your User name
The system only allows authorized users to log into the system.
Each user should use his/her own User name. A new user session starts when the person logs into the system and ends when he/she is logged out. The system keeps track of all user sessions and all activities that are performed by that user.

Enter your Password
Each user creates and uses a unique password. These passwords should be kept private in order to eliminate the possibility of unauthorized use.
If you wish to change your password, go to Login/off > Change Password

Select the Venue from the drop down list
The system is designed to work in a distributed network environment. A user can log into any remote venue's database as long as he/she is registered in it.
Click on the Enter button to log into the system Test Database

The system allows a user to enter a special database where they can enter test transactions to investigate all aspects of the program. These transactions only affect the test database and have no effect on the live database(s). Tickets, receipts and reports printed from the test database will bear the sign VOID. The test database can only be set up on request.

Login
From the main menu bar, select Login.
Selecting this menu item enables you to log off the system and log in again without exiting the program.
Click on Logoff User to log off the system
Click on Login User to log back in to the system.
The main Login screen will appear where you enter your User name, Password and select the Venue.